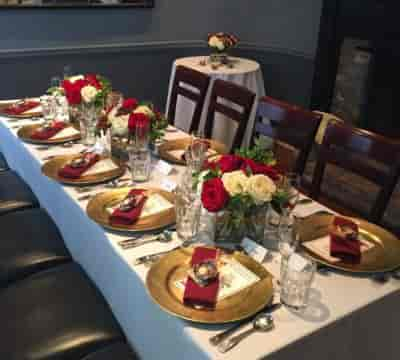 Private Events
Become a VIP
Receive updates on special events, new menu items, menu reviews, and more!
Sample Pre-Set Private Party Menus
Cocktail Reception Menus
Deluxe passed Hors D'oeuvres
$24Thai Coconut Beef Skewers with Roasted Peanut Sauce
Shrimp Cocktail with Cocktail Sauce
Crab Cakes with Lemon Tartar Sauce
Mini Asparagus and Brie Panini
Broho Beef Sliders Cheddar Caramelized Onions
Vegetable Spring Rolls with Sweet Chili Dipping Sauce
Bacon wrapped Scallops
Beef Wellingtons
Chicken Wellingtons

Choose from 5 of the above, priced per person
Premium Passed Hors d'oeuvres
$32Mandarin Moho Shrimp with Roasted Pineapple Salsa
Lobster Bisque Soup Sips
Wasabi Seared Tuna with Picked Cucumber and Ginger On A Sesame Crisp
Pistachio Crusted Lamb Lollipops
Mini Foie Gras BLT
Lobster and Mascarpone Arancini with Fire Roasted Tomato Sauce
Steak Frites (Rare Tenderloin on Garlic Crostini with Tarragon Aioli Crispy Potatoes
Mini Lobster Salad Rolls

Choose from 3 Deluxe and 3 Premium, priced per person
Pre-Set Sit Down Sample Dinner Menus
Option 1
$38.00 per personChoice of Island Quahog Chowder or Brotherhood Mixed Green Salad with Sherry Vinaigrette

Choice of Broiled Cod, Lobster Sauce with Horseradish Mash and Season vegetables or Herb Roasted Half Chicken with Mash Potatoes and a Warm Asparagus Salad

Cookie and Brownie Platter
Option 2
$48.00 per personChoice of Brotherhood Caesar Salad or Quahog Clam Chowder

Choice of Free Range Chicken Breast, Potato Gnocchi and a Truffle Pan Jus; Seared Scallops with Parmesan Risotto, Crispy Pancetta, and a Lemon Buerre Blanc; or Grilled N.Y. Strip Steak with Candied Shallot Red Wine Reduction, Roasted Root Vegetable Mash, and Seasonal Vegetables


Chocolate Mousse with Raspberry Sauce
Option 3
$59.00 per personChoice of Lobster Bisque or Brotherhood Caesar Salad

Choice of Pepper Crusted Beef Medallions with Savory Potato Gratin, Brandy Pepper Corn Sauce, and Seasonal Vegetables; Lobster Carbonara, with Pancetta, Spring Peas, and a Mascarpone Cream Sauce; or Rosemary Roasted Lamb Rack, Celery Root Mash, Season Vegetables, Romesco Sauce

Crème Brule
Other Dinner Options
First Course
Crab Cakes with Chipotle sauce
Platted Shrimp Cocktail
Brotherhood Caesar Salad
Mixed Green Salad with Sherry Vinaigrette
Mixed green Salad with Fuji Apples Candied Pecans Vanilla Bean Vinaigrette
Baby Kale Salad with Toasted Pine Nuts Roasted Tomatoes, and a Myers lemon Vinaigrette Crispy, Pancetta and Shaved Pecorino
Roasted Beet Salad with Fried Goat Cheese and Spiced Pecans
Entrée Item
Braised Beef Short Rib with Candied Shallot Red Wine Reduction, Savory Potato Gratin, and Seasonal Vegetables
Grilled Ribeye with Roasted Fingerlings, Seasonal Vegetables, Horseradish Demi-Glace
Jumbo Stuffed Shrimp with Saffron Risotto and a Spicy Tomato Broth
Lobster Mac and Cheese
Herb Crusted Lamb Loin, Smashed Red Potatoes, Season Vegetables, and a Rosemary Jus
Free Range Chicken Breast, Garlic Mash Potatoes, Roasted Mushroom, and Seasonal Vegetables
Pan Roasted Pork Tenderloin, Roasted Mushroom, Garlic Mash Potatoes, Balsamic Cream Sauce
Let us throw your next party! We offer everything from cocktail receptions to multi-course seated dinners.
The following menus provide an example of what we can do; Chef Shaun is happy to customize these menus according to your needs.
To start planning your party at the Brotherhood, fill out our online party planner or call (508) 228-2551.